---
Hey everyone! This week's DIY is a cute drawstring sweatshirt that took no time at all to make. It's light, airy, casual and fun to wear. I've worn it several times already and I'm looking forward to making variations of this top for the fall!
Inspiration: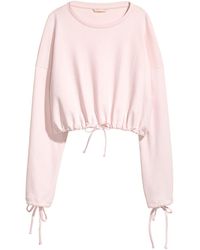 After taking a browse through H&M, I saw this sweatshirt and just loved it! But…
I didn't feel like paying $34.99 for it, so re-created it for much cheaper.
It's basically an oversized drop-shoulder sweatshirt with drawstrings instead of bands at the waist and cuffs. I'm a bit of a perfectionist, but because it's so loose, you don't need to be exact with the measurements. It also allows for this project to be pretty quick and easy!
Materials:
Stretch knit (labelled as 'mixed knits') from Fabricland on sale for $3.00/meter.
3 meters of drawstring for $0.89.
See what I mean when I said I re-created this for way cheaper than the purchase price? I'm telling you…get yourself a sewing machine and save yourself some cash! 😀
Tutorial:
Here's a quick tutorial on how I made this top. Because it doesn't need to be fitted at all, it doesn't take very long to put together.

1. The bodice is oversized and boxy – you can see in the first photo above the bodice looks pretty large! The bottom of the front is slightly raised.
2. Stitch the shoulder seams.
3. Attached the arm to the bodice.
4. Stitch from the cuff all the way to the bottom of the bodice.
5. Create 2 button holes at the bottom front of the bodice and the back end of the sleeve (approx 2″ from edge)
6.  Fold edges up 1.5″. Straight stitch in place. Insert drawstring.
Final Thoughts:
This is one of my favourite casual pieces to wear around. Removing the drawstrings at the arms and rolling them up is a cool modification.
xo!
Sharadha
Photos: David E.
Shorts: H&M | Shoes: Keds
---